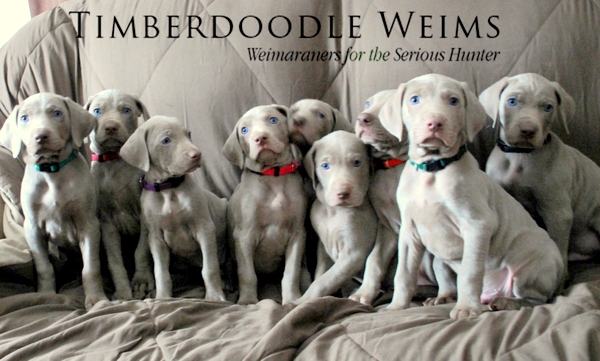 We are planning two awesome litters for the Spring of 2018:
Timberdoodle's Toast to Touchstone CGC, SD, RD, NAVHDA NA 1
OFA Hips,WE-12566G24F-VPI, Good, Thyroid,WE-TH545/13F-PI, Normal,
Elbows,WE-EL1923F24-VPI, Normal, HYYP Clear, HUU Clear. CHIC 120156
X 
Timberdoodle Low Gun, RDX, NAVHDA NA1, 112, UT1, 202
OFA Hips,WE-11515G30M-VPI, Good, Thyroid, WE-TH328/13M-VPI, Normal, 
Elbows,WE-EL295M30-VPI, Normal, HYYP Clear, HUU Clear.  CHIC 79918
We are very excited about the Lowgun x Moxie breeding.  Both sire and dam are extremely biddable and love to please their amateur owner/ handlers.  Moxie is in training for UT and will run her test after her puppies have gone to their new homes.  Lowgun and Moxie have been exclusively trained and handled by their owners and both have done very well in their events.  I do have a very long list for this breeding already so I will not be taking any additional names for puppies at this point, this is merely a litter announcement.
Timberdoodle Alberta Clipper "Beebe" , JH, NRD, SD, NAVHDA NA 1, 112 
OFA Hips, WE-12314E30F-VPI, Excellent, Thyroid, WE-TH514/30F-VPI, Normal,
Elbows, WE-EL1755F30-VPI, Normal, HYYP Clear, HUU Clear. 
X
BISOH GCH CH Moonstone's Pure Magic CGC, JH, CD, SD, RN, NRD, V
Prelim OFA:  Hips :Good: Prelim, Elbows, Normal, HYYP Clear, HUU Clear. 
This will be a repeat of a breeding we did in 2017.  Beebe is a delightful girl in the house and in the field, always happy to hunt anytime and as long as we decide to hunt.  She is an amazing retriever and has lots of water love, she has been a joy to train and handle.  She is working toward running NAVHDA UT in the fall of 2017 after her puppies go to their new homes.  Judd is a gorgeous male, handled by his amateur owner to his CH at a very early age.  I have had the opportunity to watch him in the field and he is an awesome field dog as well.  Lots of style on point and lots of drive, he is also handled and trained by his owner. Looking forward to watching this boy in his future field events, Judd's owner will be training toward AKC and WCA "broke" dog titles in addition to hunting with his family.  I do have a list started for this repeat litter and will take just a few more names.  I have been exceptionally pleased with what I'm seeing of the first litter.  I kept a pup from this litter, and hunted her at only four months of age on my Manitoba & North Dakota trip and was very pleased with the independence and talent this very young pup showed on her first hunting adventure.
If all goes as planned, breedings will take place approximately February and March of 2018.  Both litters will produce wonderful hunting weims!
…
.
Please contact us if you're interested in a puppy from either litter. Note: We sell puppies to hunting homes exclusively. If you're looking for a Weimaraner puppy but do not plan to hunt with your dog, please don't inquire with us, but instead, continue your search with the Weimaraner Club of America's Breeder Referral Page. Thank you!