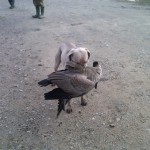 Ahh Waterfowl! It's been a great season so far! We've been hunting waterfowl in between upland and we have had a bang up year so far! We just came home from Manitoba where we had a ball visiting friends and waterfowl was amazing this year. The weather cooperated and we saw tons and tons of ducks and geese! Dogs did us proud once again both on upland and on waterfowl. We had one of our Henri x Royal pups with us and we were able to get Trigger on some sharptail grouse and Matt was able to drop one that Trigger pointed that had run roughly 20 yards up ahead of her. We were so proud of that girl, not bad for a pup just 6 months old! That was Trigger's second grouse as I was able to shoot a ruffed grouse over her point and she was just 5 months old then, a super nice litter of puppies!
We're looking forward to hunting this weekend as woodcock are thick as can be right now! We'll head out to hunt ruffed grouse this weekend and when things settle down there we'll go and chase some "timberdoodles" around! Only two more weekends of upland and our white tail season begins. Hopefully we can both have our deer in the bag when late season grouse/pheasant picks up again.
Hope you're having a fantastic season!
Camille Rice