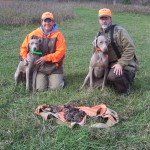 What a fantastic hunting season it's been! Grouse numbers were up this year so grouse camp was a huge success! Lot's of friends, great dog work, fantastic food and of course grouse and woodcock in the bag! We were able to take a trip to Manitoba, Canada to visit with some wonderful friends and to enjoy their upland and waterfowl hunting! We had such a fantastic time! Many memories of hunting in new areas and gorgeous country. Then after a few days of deer hunting at home we headed west to chase ringnecks around. Needless to say my website has suffered to to our non stop hunting but what a season!
Congrats to Timberdoodle Lowgun, NAVHDA NA 1, 112 and his owner Randy Carmoney for winning the Amateur Field Trial Hunter's Classic. The first weimaraner to win this event and with his 7 grouse finds he edged out all the long tail competitors! WTG Randy and Lowgun!
Congrats to Timberdoodle Hunter's Bella, NAVHDA NA2, Timberdoodle Sailin with the Captain,NRD, NAVHDA NA 3 and Timberdoodle One More Round on Shelby, NAVHDA NA 2, for prizing in their NAVHDA NA tests this past season! Nicely done to my girls and their owners!
Hope this catches me up for awhile! Back to late season grouse hunting and perhaps dropping another whitetail with my bow!
Happy Hunting, Camille Rice