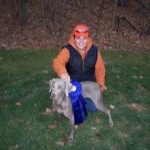 It's been a great hunting season so far!  Lot's and lot's of bird contact for the weimies and of course we've been deer hunting quite a bit.  Both Matt & I have taken bucks this season, mine was taken with my cross bow and Matt took a HUGE trophy buck  out back with his rifle.  This being said we never run our dogs in any events in the fall,  I feel that with as much wild bird contact as they've had they will not have a competitive run in events.   So I will say now,  never say never!!
A friend of mine contacted me a few weeks ago and asked me to run a couple of his German Shorthair pups in an amateur walking puppy stake at an upcoming field trial.  My friend is a pro trainer I said "sure why not" and I decided since I was there I'd enter Royal in the amateur derby.     I was very happy with her performance and I felt she did an excellent job and to boot she was the only weimaraner entered in the entire trial.  I am very proud to say our dear Royal won the derby stake!   I really don't like to run too many juvenile stakes with our dogs and I really don't like to waste time on events during bird season but I am really happy I did enter her.  I had a great time watching her run and just smoke the brace and now it's on to broke dogs stakes next spring!
Hope you're all having a fantastic season so far!
Happy Hunting,
Camille Rice