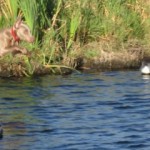 I am proud to announce the results of our Riley x Velvet litter that recently ran their NAVHDA Natural Ability tests. We tested 6 of our 8, 2009 puppies in August 2010 and they really did their parents & us proud!!
Timberdoodle Lowgun, NA 1, 112 perfect score
Timberdoodle The End, Season Three, NA 1, 112
Timberdoodle Little Blaze of Thunder, NA 1, 112
Timberdoodle Crown Royal, NA 1, 112
Timberdoodle Blue, NA 3
Timberdoodle Velvet Little Panzer, NA 3
An awesome litter and they really did a great job in their tests! Watching them perform to perfection was just so thrilling for me as the breeder! I know Riley's owner was just as thrilled as I was with the results. Huge congrats to their owners and thanks to all of you for doing such a great job preparing your puppies for their NAVHDA NA tests.
Huge congrats to Timberdoodle Razmataz Jaz, JH, SD, RDX for earning her RDX this past summer! Jaz and her owner made the test look so darn easy, a perfect team to watch with their flawless performance! Way to go Heather & Jaz!!
So here we are headed into the hunting season with just a wonderful end to our testing season! I'll detail our hunting adventures as we hunt our way through all the waterfowl and upland bird seasons.
Happy Hunting!