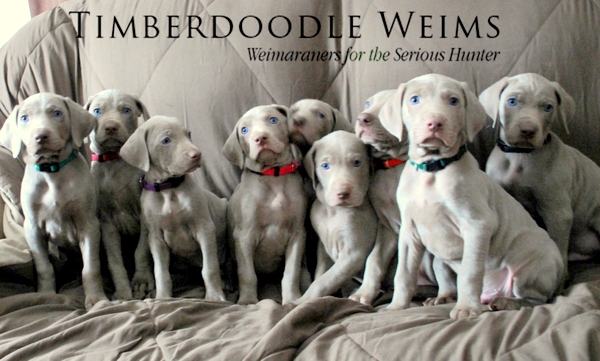 We are planning two awesome litters for the Spring of 2019:
Timberdoodle Jameson on the Rocks,  NAVHDA NA 1
OFA Hips,WE-12756G37F-VPI, Good, Thyroid,WE-TH545/13F-PI, Normal,
Elbows,WE-El2054F24-VPI, Normal, HYYP Clear, HUU Clear.
X 
Heartbeats Chevys Generation Seven Stingray, RD, SD
OFA Hips, WE-12831G71M-VPI, Good, Thyroid, WE-TH328/13M-VPI, Normal, 
Elbows,WE-EL2100M71-VPI, Normal, HYYP Clear, HUU Clear.  
We are very excited about the JR x Lulu breeding.  Both Lulu and JR are exceptional foot hunters dogs and are their owners go to bird dogs.  Lu is an amazing grouse dog, with very little training early on,  she learned to master the king.  My shooting opportunities on these difficult birds has increased drastically with Lulu on the ground.  JR is also no slouch in the grouse woods, or on any wild bird for that matter..  Both sire and dam in this breeding are extremely laid back in the house and all business in the field.   This breeding should happen early spring in 2019, I am taking a few more deposits on puppies at this point.
Timberdoodle's  Toast To Touchstone "Moxie" , RDX, SD, NAVHDA NA 1, UT 1, 204 
OFA Hips, WE-12314E30F-VPI, Excellent, Thyroid, WE-TH514/30F-VPI, Normal,
Elbows, WE-EL1755F30-VPI, Normal, HYYP Clear, HUU Clear. 
X
NFC, FC, AFC Touchstones AC Nothing Personal, "Otto"
This will produce incredible puppies.  Both sire and dam are exceptional bird dogs.  More information will be posted soon about this incredible breeding. Both Otto and Moxie are biddable, wonderful hunting companions.
…
.
Please contact us if you're interested in a puppy from either litter. Note: We sell puppies to hunting homes exclusively. If you're looking for a Weimaraner puppy but do not plan to hunt with your dog, please don't inquire with us, but instead, continue your search with the Weimaraner Club of America's Breeder Referral Page. Thank you!